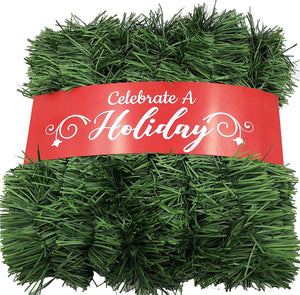 ✅ PERFECT FOR ANY OCCASION: Whether you're planning a wedding or looking for the traditional holiday staircase garland, our decor has got you covered! Decorate your home with our greenery for that special Christmas touch, or wrap around an archway for a beautiful wedding that is sure to be remembered. Bonus points if you add lights or ribbons!

✅ SOFT AND DURABLE MATERIAL: Our 50 foot garland is made from a durable plastic with a realistic look that is also flame resistant and long-lasting. This decor, along with the memories made, will last for a long time of holidays and decorating!

✅ NON-LIT GREENERY: You say boring, we say it's a creative opportunity! Our artificial garland represents the perfect base to add pizazz - whether it be sparkly tinsel for Christmas, rainbow lights for a birthday, miniature creatures for a baby shower, or colorful ribbons for a wedding. You name it, and our novelty garland will pair with it!

✅ 50 FEET OF OPPORTUNITY: In addition to its construction from durable plastic, our green garland is 50 feet long, providing you with a lot of freedom to use it wherever you please. Unlike other garlands, our product won't fall apart, allowing you to utilize all 50 feet, BOTH indoors and outdoors!